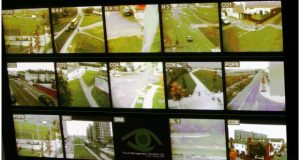 A grant-aid scheme to set up CCTV systems in neighbourhoods has been announced by Minister for Justice Frances Fitzgerald who said she hoped the plan would help rural communities affected by crime.
Under the scheme, eligible community groups can apply for grant aid of up to 60 per cent of the total capital cost of a proposed CCTV system, up to a maximum grant of €40,000.
Upon approval, the applicant will receive an upfront payment of 50 per cent of the grant with the balance to be paid when the system is fully operational.
In order to qualify for the scheme, applicants must be approved by the local joint policing committee, and comply with the CCTV code of practice which sets out the conditions which must be adhered to.
The code of practice says each local authority must undertake to act as a "data controller" which nominates a "manager or designated person" who will have responsibility for ensuring the proper operation of the system.
Respect for people's privacy where no criminal offence is being committed should be of "primary consideration". It is not permitted to use the cameras to look into any premises, be they public houses, shops, business premises or private dwellings.
It further stipulates that signs should be placed in the area so people are aware that they are entering a district which is covered by a CCTV system.
Data protocol
Images should not be retained by the data controller for longer than is necessary, and should be erased after a period of 31 days unless required by the Garda for evidence or the investigation of offences.
Ms Fitzgerald said some of the key objectives of the scheme would be to enhance existing policing provision within communities, and to assist in the prevention and reduction of local crime, disorder and anti-social activity.
Furthermore, she said, the scheme could "increase community involvement in the provision of legitimate, integrated responses to prevent and reduce crime in local areas in association with appropriate agencies".
"I am very conscious of the value that communities, especially rural communities, place on CCTV as a means of deterring crime and assisting in the detection of offenders," she said.
It is intended the scheme will run for three years with funding of €1 million being made available each year.
Modern policing
Irish Rural Link chief executive Séamus Boland said CCTV "adds to the modern-day policing of crime".
"It's another tool that's there," he said. "It brings us beyond the debate in relation to rural Garda stations. It was always too simplistic to talk about opening and closing stations. This is a much more community-based approach."
Three years ago in Dunmore, Co Laois, 20 cameras were placed at seven locations on every road in and out of the area. Dunmore Community Alert secretary Barry Foley said the cameras have "pushed crime right out".
"At our last agm, our local sergeant came in to thank us because although some crimes had been committed outside our area, the evidence from the camera placed the perpetrators in the vicinity," he said.
"We have little or nothing going on in our area because of the CCTV. It's been a huge success. It's good for everyone."
source – https://www.irishtimes.com/news/crime-and-law/cctv-grant-scheme-focuses-on-fighting-rural-crime-1.3048735
https://www.gmesecurity.ie/wp-content/uploads/2017/06/GME.LOGO_.white_.png
0
0
Gavin Malone
https://www.gmesecurity.ie/wp-content/uploads/2017/06/GME.LOGO_.white_.png
Gavin Malone
2017-08-22 14:28:45
2017-08-22 14:28:45
CCTV grant scheme focuses on fighting rural crime