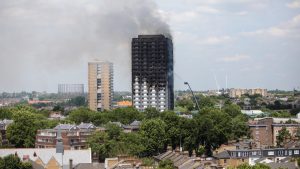 The death toll from the Grenfell Tower fire is believed to be around 80 people, the vast majority of whom were from just 23 flats, British police have said.
Metropolitan Police Detective Superintendent Fiona McCormack said contact had been made with at least one person from 106 of the 129 flats in the building.
From those flats, 18 people are dead or assumed dead, while the remaining victims were thought to have been in the flats which had not been heard from.
Ms McCormack confirmed more than 60 organisations were helping police with their investigation.
Efforts to establish who was missing in the wake of the fire were focused on talking to friends, families and neighbours of those in Grenfell Tower, Ms McCormack said.
She said: "On the first day of our work we were provided with a list by the tenant management organisation of who they had recorded living at Grenfell Tower.
"We quickly identified by the end of the first day that this list was not accurate."
She added: "What we know is that it would be impossible for anyone to produce a list to show exactly who was at Grenfell Tower that night, that includes the people who were living there or who were visiting."
The 23 flats which were said to have no survivors were spread between the 11th floor and the 23rd.
A handful of flats were still too unstable for police to carry out further investigation, she said.
Police have examined "every imaginable source" of information about who was in the building, "from government agencies to fast food companies", Ms McCormack added.
She said that a couple who were missing and assumed dead had actually been on holiday at the time of the blaze.
Councils warned about cladding weeks before London fire
Every London council was warned by Britain's fire service that cladding on high-rise buildings could be dangerous just weeks before the tragedy.
In a letter sent to all 33 local authorities and housing providers in the capital in May, the London Fire Brigade urged them to consider if panels could be flammable.
The safety advice came in the wake of a fire at Shepherd's Court in Hammersmith, west London, in August 2016, where cladding was found to have aided its spread.
The letter said: "In the case of this fire, we believe such panels were a contributory factor to the external fire spread."
Flammable cladding is suspected to have accelerated the scale of the west London blaze on 14 June.
In the correspondence, a "number of cases" were said to be found where fire protection on external facades "did not comply" with building regulations.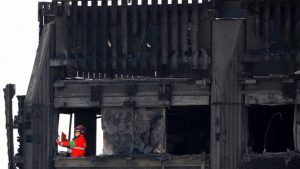 The disclosure comes as British Prime Minister Theresa May confirmed 120 tower blocks have failed fire safety tests and face having their cladding removed.
Suggestions were made in the letter, signed by assistant commissioner Dan Daly, that contractors might have believed wrongly that separate safety certificates for glazing also extended to cladding.
The letter said: "In the light of fires that have occurred, I would urge you to consider carefully your arrangements for specifying, monitoring and approving all aspects of future replacement and improvement to building facades and construction of new buildings for which you are responsible.
"Contracts for the provision and installation of replacement elements of building facades, including insulation, replacement double glazing and associated spandrel and in-fill panels must ensure compliance with all parts of Part B if they are to secure public safety and minimise fire losses.
"I would therefore strongly urge that you consider this issue as part of the risk assessment process for premises under your control.
"I suggest that you make sure all relevant information about any replacement window and facade schemes is fully available to fire risk assessors.
"Where no reliable information is available for a given property, it is our general expectation that a strategy to assess the risk and where necessary implement short, medium and long term actions to address the risk.
"This assessment will need to take account of other fire safety measures already in place in the building as well as potential mitigation measures to ensure that any potential fire spread does not pose a risk to health and safety."
The Royal Borough of Kensington and Chelsea, where Grenfell Tower is located, would have received a copy of the letter, LFB said.
Kensington and Chelsea Council said this afternoon: "We know there are many questions relating to fire safety standards.
"The council is committed to cooperating fully with both the public inquiry and the criminal investigation.
"We do not think it is right to make comments relevant to the inquiry or subject to the investigation until this issue has been discussed with the police and the solicitors to the public inquiry once they have been appointed.
"The council does not want to prejudice the fair conduct of the public inquiry in any way. We will update you as soon as those discussions have taken place."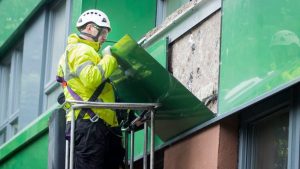 Mrs May announced in Parliament this afternoon that the number of tower blocks in Britain found to have combustible cladding after failing fire safety tests has grown to 120.
Mrs May said flammable cladding was found in the high-rise blocks across 37 local authority areas in England in tests carried out in the wake of the Grenfell Tower disaster.
She said 100% of the cladding samples tested have been found to be combustible and urged local authorities and housing associations to "get on" with fire safety checks without waiting for test results.
At Prime Minister's Questions, Mrs May said 282 good quality temporary properties have been identified for victims of the Grenfell Tower disaster, 132 families have had their needs assessed, and 65 offers of temporary accommodation have been made.
The government has provided nearly £1.25 million in discretionary payments and will be giving an extra £1m to a local group of charities, trusts and foundations "which have been doing such important work", Mrs May said.
The PM said she expects to name a judge for the public inquiry into the disaster "soon".
Labour leader Jeremy Corbyn asked for a "categorical" answer on whether cladding with a combustible core, such as polyethylene, is legal for high-rise buildings, and if that used on Grenfell Tower was legal.
Mrs May replied: "The situation is, in relation to the cladding, that the building regulations identify the cladding which is compatible with the building regulations and that which is non-compliant with those building regulations.
"My understanding is that this particular cladding was not compliant with the building regulations.
"This raises wider issues, as the House will recognise, and it is important that we are careful in how we talk about this because there is a criminal investigation taking place and it's important that we allow the police to do that criminal investigation and take the decisions that they need to take."
Source – https://www.rte.ie/news/2017/0628/886196-london-fire/
https://www.gmesecurity.ie/wp-content/uploads/2017/06/GME.LOGO_.white_.png
0
0
Gavin Malone
https://www.gmesecurity.ie/wp-content/uploads/2017/06/GME.LOGO_.white_.png
Gavin Malone
2017-06-28 18:45:55
2017-06-28 18:45:55
Police say death toll in Grenfell Tower fire 'around 80 people'