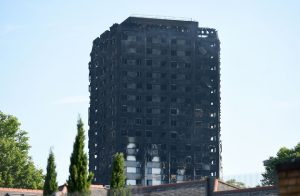 DUBLIN FIRE BRIGADE'S Chief Fire Officer has said that local authorities are best placed to carry out building control inspections in the wake of the Grenfell fire but resources aren't available to do it.
Speaking to RTÉ's Morning Ireland, Patrick Fleming said local authorities need more resources to carry out the inspections:
Well I think every local authority has a building control section, and fire services as well, and the local authority system is probably the best situated service in order to provide that.
"However it does need the resources to do that and that is where there may be some issues," he concluded.
Responding to Fleming's point on the same programme the Minister for Housing Eoghan Murphy outlined his department's reaction to the deadly London blaze, which claimed at least 79 lives earlier this month.
"The first responsibility that I think we have here is to ensure that there are fire safety measures in place in all multi-storey buildings.
"We moved very quickly to liaise with the building control authorities, to liaise with the fire authorities to ensure that they were doing this inspection work.
"By the 19th of July we'll have reports back from the local authorities on their inspection of multi-storey units.
"By that point as well all local authorities will have inspected cladding on buildings over 18 metres.
These are important first steps that we need to take to make sure that people are safe where they live.
Fire safety 
Murphy confirmed in a statement earlier this morning that he had ordered the coordination of a high-level task force to lead the re-appraisal of fire safety in Ireland.
The Minister has ordered a series of measures to be completed by the task force in the weeks ahead to ensure that all available precautionary measures are taken to prevent a similar fire happening here.
"While preliminary work shows that there are no situations in Ireland directly comparable to Grenfell Tower," Murphy said, "We must learn the lessons and take appropriate and balanced action to minimise the possibility of a large-scale fire occurring in Ireland."
Taking action
The National Directorate for Fire and Emergency Management is charged with coordinating the task force.
This body reported on the national audit of fire safety in Traveller accommodation in the wake of the Carrickmines fire in 2015, which killed five adults, five children and one unborn baby.
The directorate will work with building standards and social housing divisions at the Housing Department, in addition to the chief fire officer in Dublin.
A review of how each local authority's fire service is prepared to deal with a large-scale incident is underway.
Landlords are also being notified of their obligations in terms of fire safety requirements.
Further measures
As well as the measures already taken, Murphy has ordered a number of other steps to be taken in the weeks ahead to ensure the country is doing everything it can to avoid a similar fire here.
These include the publication of a guide on undertaking fire safety assessments and a renewed focus on the preparedness of local authorities for a large-scale emergency.
Murphy will also update his cabinet colleagues on the post-Grenfell situation in Ireland, and meet with local authority chief fire officers in the coming weeks to review current plans for fire safety initiatives.
He closed the statement outlining the measures by urging every householder in Ireland to "ensure that the most effective and straightforward measure for safeguarding families from fire – smoke alarms – are installed and fully functional in every home and are tested regularly".
"Systematic re-check"
Last week, Leo Varadkar's government lost its first vote since he became Taoiseach, when a Green Party motion on building standards – made more pertinent by the Grenfell blaze – passed through the Dáil.
Yesterday, calls were made to extend fire safety checks beyond multi-floor social housing units following the discovery that the same cladding used in Grenfell Tower was used in the headquarters of Cork County Council.
The council confirmed that a similar aluminium material used in Grenfell Tower is currently installed around the exterior of the council chamber within the main foyer of the building.
The cladding was installed during a €62 million refurbishment of the Council Hall which was completed in 2006.
Reacting to the news, Green Party deputy leader Catherine Martin TD said that Minister Murphy "must order a systematic re-check of fire safety in buildings".
"It's extremely worrying that the flammable cladding, believed to have contributed to the spread of the awful fire in Grenfell Tower, was installed here in Ireland," she said.
Independent TD Tommy Broughan also raised worries that the unsafe cladding used in the UK may have been used here too.
He said: "The same restrictions apply in Ireland that you can't use non-compliant material yet it has been used in the UK and we need to know now if it has also been used in Ireland."
Source – http://www.thejournal.ie/grenfell-tower-ireland-3466980-Jun2017/?utm_source=shortlink
https://www.gmesecurity.ie/wp-content/uploads/2017/06/GME.LOGO_.white_.png
0
0
Gavin Malone
https://www.gmesecurity.ie/wp-content/uploads/2017/06/GME.LOGO_.white_.png
Gavin Malone
2017-06-29 14:35:37
2017-06-29 14:35:49
Dublin's chief fire officer says more resources needed to carry out inspections